Schedule and Programming Information
Lost? Try our page finder
(uses Javascript)

On Air Phone: (201) 200-9368

Office Phone: (201) 521-1416

Mailbox: P.O. Box 2011
Jersey City, NJ 07303-2011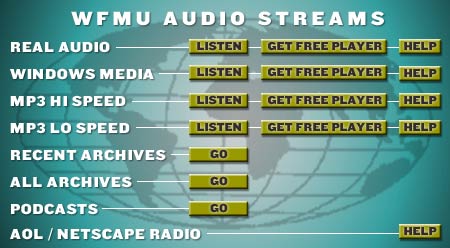 Special FMU Programs to Listen to:
If you don't like what's playing on 'FMU right now, check out our archives page, or listen in on some great programming moments from the past, like Pseu Braun's interview with Kim Fowley, or Trouble's French Music Special or Hova's guaranteed to get you laid Valentine's Day special, not to mention Mac's amazing Museum of paper and carboard records. And if that wasn't enough, then put a paper bag over your head and wade into the audio filth of the Dirty Duck (All archives are in Realaudio G2, which you can download here. )

Articles About Radio:
It's now possible to listen to the radio and read about radio at approximately the same time! Check out our archives of articles about radio, from the development of freeform radio to Dick Blackburn's tribute to the golden era of Black DJs. You can also check out the lives of great DJs or Chris T waxing vinyl on the beauty of skipping records. Gene Sculatti pays tribute to Jazzbo Collins and the New York Times pays tribute to us!

Articles About Music:
Many of our DJs can actually read and write in addition to playing records. Check out Rob W's World Music Fun Facts, or his World Music Shopping guide, or read David Keenan's interview with Steven Stapleton of Nurse with Wound. Mac curates The Internet Museum of Flexi/ Cardboard/ and Oddity Records. Irwin rhapsodizes on the awful Cherry Sisters and the even awful-er Jandek, and Kenny G waxes ambient on Eric Satie. Kenny G. has also put together a popular guide to unpopular music.

A few years ago, we polled out listeners on the worst pop song of the postwar era. Here are the results. And speaking of "worst," here's Bronwyn C's report on Chris Gaines.

We've also got articles on:
James Brown's Popcorn, catatonic soul singer James Carr, and Josh Alan Friedman's portrait of Doc Pomus. Jay House discusses trucker songs for the 20th century, and Ellery Eskelin tells the whole tale of his Dad Rodd Keith, (the king of song poems). The intersection of Christ, Communists and Rock 'n' Roll, as dissected by Johnny Marr, and we finally reveal the identity of the person who killed Rock 'n' Roll.

If you're still looking to kill some time, play our mix and match game where you can guess which FMU DJ once roughed up Dan Rather, or check out our music-related Comics section!

These and plenty of other articles can be found in our print & online zine, LCD.